Ride and Tie
"Two people, a horse … and an exhilarating race"
Some people may say 'only in America' but this sport could certainly appeal to some Aussie riders too!
Combining running, endurance riding, and most of all, strategy, this sport was born in America in 1971. While it is still concentrated around California, where most of the competitors come from, it is held across America and events have even been held as far a field as Sweden, England, France, Germany and Canada!
The object of this sport is to get all three team members (two humans and one horse) through a 32-160 kilometre trail ride by alternating riding and running.
One team member starts out running (or walking), the other starts on the horse and rides down the trail as far as they think their partner can run (or walk) and still keep up a decent pace. At that strategic point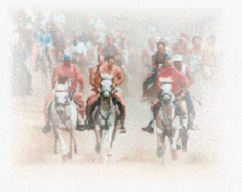 the rider stops, dismounts, ties the horse to a tree or fence post, and continues down the trail on foot. The team member who started on foot gets to the horse, unties it, mounts, and rides to catch their partner up ahead. When they get to their running team member they can either stop and exchange, or ride further up the trail and tie the horse and then continue running. When, where, and how a team exchanges is up to them, and this is where the strategy lies. Every trail runner has their strengths and weaknesses, and the same is true for horses. Factor all the strengths and weaknesses of two runners and one horse, along with weather conditions and the topography of the course, and you'll understand why Ride & Tie is as much mental as physical.
They say that finishing a Ride & Tie is both humbling and gratifying. You are not there by your own efforts, but by the efforts of all three team members. Your partners, one two-legged and one four-legged, have given to you as much as you have given to them…everything. To most participants, a Ride & Tie is not won by the fastest team - it is won by those who have the will and fortitude just to finish.
So, if this sounds like your idea of fun – why not organise one here in Australia and tell us here at Have Horse … Will Travel all about it!
Buying or selling a Horse – use the link from our home page …
If you are wanting to Buy/Sell a Horse visit our link from our Useful Resources list on the www.havehorsewilltravel.com.au Home Page
Christmas Holidays
Yes – Christmas is just around the corner !
| | | | | |
| --- | --- | --- | --- | --- |
| VIC | 22 December to 29 January 2007 | | NSW | 22 December to 28 January 2007 |
| ACT | 22 December to 1 February 2007 | | WA | 8 December to 31 January 2007 |
| TAS | 21 December to 14 February 2007 | | QLD | 16 December to 28 January 2007 |
| SA | 16 December to 28 January 2007 | | NT | 16 December to 28 January 2007 |
Spend some quality time with your horse this summer - checkout the great properties, trails and events at www.havehorsewilltravel.com.au.
---
victoria
Equitana 2007
9 to 12 November 2007

Plan ahead – Equitana will again be held in Melbourne from 9 to 12 November 2007. A great event with something for everyone – write it in your diary.
Man from Snowy River Festival
30 March to 2 April 2007

This event is held each year at Corryong in Victoria, located about 430 kilometres north east of Melbourne. This family weekend includes one of the ultimate tests of all round horsemanship skills - the Country Wide Challenge. For further information visit their website at www.manfromsnowyriverbushfestival.com.au
---

queensland
Charlie Moreland Camp
27 December 2006 to 1 January 2007
(Wide Bay Trail Riders)
Charlie Moreland, located 6 kilometres south of Kenilworth, in the Sunshine Coast hinterland, is a great base from which to ride in the stunning forests Kenilworth has to offer. For further information, contact Wide Bay Trail Riders on email at eldiamondstud@yahoo.com.au or phone (07) 4123 5915.
Polocrosse World Cup
23 to 29 April 2007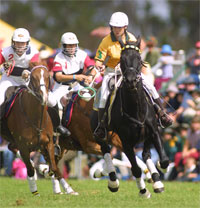 Morgan Park, in Warwick on Queensland's Southern Downs, will shortly host the premier international Polocrosse competition. From Monday 23rd April, the world's top Polocrosse playing nations will gather for the week-long event. See elite players from Canada, Ireland, New Zealand, South Africa, the UK, USA and Zimbabwe take on current world champions, Australia.
The sporting action on-site includes spectacular international night matches, plus dozens more during the three-day Australian Equine Alliance Club Carnival. Over 40,000 people are expected to visit Morgan Park – many will stay to discover other tourist attractions in this beautiful region. For further information or travel packages visit www.polocrosse.com.au/worldcup. And watch out for the double passes we're giving away on the website in the New Year – more info in the next E-news (Photo: Australia v USA at the 2003 Polocrosse World Cup courtesy of www.sportingimages.com.au).
Kandanga Protest Ride Report
Held 16 and 17 September 2006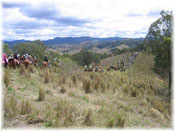 Over the weekend of 16 and 17 September, the town of Kandanga hosted a protest ride on behalf of all those affected by the Queensland Governments' decision to dam the pristine Mary Valley. Over 500 horses gathered together on the Sunday morning (many had camped the night before) for a ride over some beautiful public and private trails to arrive in the town proper in time for lunch.
The 500 strong field rode majestically down the main street lined with on-lookers and well wishers.
The lunch was well catered and, after a well earned break for both riders and mounts, those who hadn't departed from town, rode back to base.
---
south australia
Starkeys/Mt Crawford Camp Ride Report
Held 29 Sept - 2 Oct 2006


(Adelaide Trail Horse Riders Club)

Saturday morning the riders met at Mt Crawford forest. It was a lovely clear morning the warmth of the sunshine was just wonderful.
I arrived and got my camp organized and Rosie settled in her yard. There is just something about camping with your horse that makes your soul buzz.


A little later the trail boss, Michelle, got everyone together and we set out for our first session for the day.
The point of the weekend was to get our horses used to moving around in a group and to be happy to take up any position within the group without showing too much anxiety. We have all had to deal with horses that are jogging and wanting to be with another horse or just altogether somewhere else.
One of the exercises Michelle had planned was leap frog (taking a horse from the
front of the group and riding it past the others to the back or as far back as the horse was comfortable with) these exercises were done at the walk and the trot. We all had different experiences with these exercises as our horse had varied exposure. It was a great way of seeing how far we could stretch the distance before the horses reacted. The best thing about this weekend was that we were able to deal with the issues as they arose and we kept repeating them until the horses really didn't give a damn.
We rode twice a day each day, for a couple of hours, returning to camp for lunch. At the end of the day we had a quiet drink and our dinner around the campfire. It was great to have the fire to relax around as the nights at Mt Crawford are notoriously bitterly cold this time of the year.
It was a very successful weekend that was wonderfully organized by Michelle. Thanks Michelle – your great leadership skills and patience made everyone feel at ease and we all appreciate your efforts.
Tina


ATHRC (visit their website at http://www.athrc.org/)

Travel Report

Last issue we continued to share Liz Siewert's (Mount Bulla) travelling experience of last year. We covered day 4 and 5 of her 9 day float trip to Merrijig in Victoria. Below we have again published their itinerary – and a finalisation of their travels ….

Their itinerary


Day 1 – El Questro/Kununurra (WA) to Katherine (NT)


Day 2 - Katherine to Tennant Creek (NT)

Day 3 - Tennant Creek to Alice Springs (NT)


Day 4 - Alice Springs to Coober Pedy (NT)


Day 5 - Coober Pedy to Port Augusta (SA)


Day 6 - Port Augusta to Barossa Valley - Mt Crawford State Forest (SA)


Day 7 - Mt Crawford State Forest


Day 8 - Mt Crawford State Forest to Bendigo


Day 9 - Bendigo to Merrijig


Day 6 & 7, Fri & Sat 13th - 14th August - Port Augusta to Barossa Valley - Mt Crawford State Forest (SA) (300kms)


We decided to take a break for a couple of days in the Mt Crawford State Forest near the Barossa Valley. I was told about this well known spot, regularly used by South Australian endurance riders, and other horse owners, by Darren Leaver from Jendari Arabians. Darren very kindly offered a place to stay to break up our journey but we decided to camp out in the forest and do a bit of exploring while we were at it. (I must comment - the horse fraternity in general is filled with the most generous and kind people and we have many offers of accommodation when I posted some queries to the Aussie Endurance list I belong to. It is a great way to meet people and make new friends.) We travelled along the Princes Highway and turned off to Gawler. From Gawler it is a short drive to Williamstown.

The Mt Crawford State Forest is between Williamstown and Birdwood. SAARABS have built some excellent horse yards at a campsite called Starkeys. You need to book and get a permit before you go. You can contact Forestry SA (08) 8524 6004 for more information. It costs about $20 per night, and about $3 per horse. There are toilets but no shower facilities and you need to take in your own water, although there is a rainwater tank nearby. There are stacks of riding trails through pine forests and old growth forest to keep you busy for days.

Day 8, Sunday 15th August - Mt Crawford State Forest to Bendigo (590kms)


We are back in civilisation again so no need to talk about minor road stops. It does take a while to get back on to the highway from Williamstown if you head south to Murray Bridge like we did. We took about 50kms of small minor roads, winding and lots of ups and downs, but extremely scenic. Once at Murray Bridge we headed onto the Dukes Highway to Bordertown (275km). From Bordertown it turns into the Western Highway and we followed it in to Horsham. As we wanted to get to Bendigo the most direct way, we turned off on to a secondary road to St Arnaud, and headed directly east to Bendigo from there.

At Bendigo, we stayed at the Bendigo Showgrounds. I have misplaced my contact details for the Showgrounds but I found their number through the Bendigo Town Council. The horse stables are very small but if you are only staying one night they are OK. Hot showers are available and we could set up a camp where we liked.

Day 9, Monday 16th August - Bendigo to Merrijig


This was our last leg to our own property in Merrijig near Mansfield.

Liz Siewert

Liz's log has been published in instalments starting in our May/June 2006 e-news – previous e-news are available from the website if you want to catch up on the whole of this story.

Thanks Liz – for your great trip report.

All contributions are gratefully received here at Have Horse … Will Travel
---
new south wales

(and australian capital territory)

Xmas/New Year Annual Camp - Gloucester Tops

26 Dec 2006 to 2 Jan 2007

(Lake Macquarie Pack & Trail Horse Riders)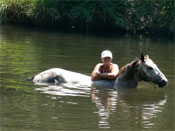 This one week ride will be held on private property 40km west of Gloucester, approximately two hours north of Newcastle NSW. Visitors welcome (need to have their own horse/transport). At base camp riders need to be totally self sufficient (ie, take own food for horse and human, electric fencing, etc). Visiting riders can ride for no more than two days (you will need to become a member of the club ($60) if you would like to stay longer). Fee is $17 for a visitor per day or $15 for members (for the week). The 2005/2006 was a huge success and no less is expected this year! For further information email Jacqueline.Mann@hnehealth.nsw.gov.au or call (02) 4947 4356 or 0438 574356
MS Horseride (Gundagai) Ride Report
Held 23 to 30 September 2006
What do you get when you combine one week of spring sunshine, kilometres of spectacular rolling countryside and 215 happy horse lovers? The best four-legged adventure ever!
The 11th MS Horseride was held near Gundagai from 23 – 30 September 2006.
By day participants rode over lands once terrorised by bushranger Captain Moonlite and later made famous by Jack Hagan's legendary lyrics about that road to Gundagai, now etched into Australian folklore.
Whether down in the depths of the valley or high in the surrounding hills, participants were amazed by the area's natural beauty.
Highlights of the week included a ride out to what remains of Kiley's Run (the homestead immortalised in the poem by Banjo Patterson), a sheep-dog trial presented by local property owner Bill Luff and a tour of Bongongo Public School kindly put on by the 11 students who live in this remote pocket of NSW.
Each night as darkness fell over the campsite, fires heated the hands while live and local entertainment ensured those on the dance floor were more than warm. Tuesday night's auction raised well over $10,000 and our annual talent quest once again uncovered some unique skills while also providing big laughs.
The aim of this year's MS Horseride was to raise $120,000 for people with multiple sclerosis. With many riders going an extra mile by sourcing sponsorship for their ride, buying or selling raffle tickets, or organising fundraising events of their own, the MS Society is confident this target will be met.
"The generosity of the people on this event never ceases to amaze me and we thank them for making a positive difference to the lives of people with multiple sclerosis" said MS Events Manager Karl Kinsella.
The MS Society also wishes to thank all the property owners and managers in the Gundagai district for sharing their invaluable local knowledge and offering their assistance in helping us plan and stage the event.
The MS Horseride is a unique event that attracts a dedicated group of big-hearted horse riders and volunteers, making it one of the best holidays you and your horse could ever have.
The MS Horseride is fully supported and professionally organised by Multiple Sclerosis NSW/Vic. Riders and their four-legged friends are provided with well-marked trails, all meals, and a welcoming campsite complete with toilet and shower facilities, licensed brasserie, general store, massage tent and first aid. Vet and farrier support is also available.
If you want to join them for 2007, when they explore another beautiful region of country NSW, please phone (02) 9413 4166 or email
events@mssociety.com.au
.
---
tasmania
Tangara Trail
This trail network, running from Five Mile Beach (near the Hobart airport) to South Arm, comprises of over 80 kilometres of connected trails, and is growing each year. It takes riders through scenic coastal reserves, undulating semi-rural country and small seaside villages. Adjoining the trail is the State Equestrian Centre at Lauderdale. For further information contact the Clarence City Council on (03) 6245 8600 or visit their website (for a downloadable map and brochure) at www.ccc.tas.gov.au/site/page.cfm?u=274
10th Christmas Progressive Trail Ride
10 December 2006
Derwent Valley Horse Riders Association
are holding their 10th Christmas Progressive Trail Ride (or Eat-A-Thon as they are otherwise known!) from Molesworth to Glen Fern.

After a catered breakfast, the morning will take riders through the hills to have morning tea at Kensington Park (byo morning tea/drinks). From there it is on to Glen Fern for a BBQ lunch.

Riders must book at least one week before to help with catering.

Non-members are most welcome (day insurance and waiver form required).

For further information please contact Sue Crawford Secretary on (03) 6261 2964 or email
deyrah@bigpond.net.au
---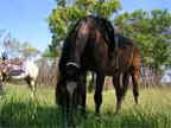 northern territory
It's a bit quiet in the Territory at this time of the year !
---
western australia
Try something different these holidays?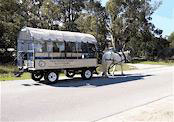 Situated only 45 minutes south of Perth (in Baldivis) is Peel Horse Drawn Eco Tours. They can provide you with a day packed with the great sights, tastes and experiences unique to this beautiful part of WA's Peel Region. Their tours are available in all seasons so why not join them this holiday season. Sit back and relax in the comfort of one of their fully weatherproofed wagons.
Witness the beautiful sites that nature has provided within the Baldivis area. Join them on a journey that pleases all ages as they uncover some little known prehistoric secrets. As you tour through this pristine Peel region, be in awe of the spectacular wildflowers. Their tour guides have extensive knowledge of the areas travelled and you can learn some of the uses of the flora and fauna to the indigenous people to this area. Also have the opportunity to hand feed some of the Australian native animals in the safe surrounds of Marapana Wildlife World. All tours include great local wine. A superb platter of enticing food and nibbles is also provided for your convenience and of course the great natural surrounds that mother nature has already provided. For further information email them at ecotours@goldensunsettours.com.au or phone (08) 9525 0292.
---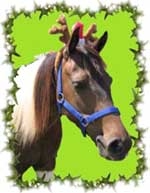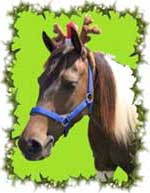 BEST WISHES
FOR A SAFE AND HAPPY
FESTIVE SEASON
FROM
www.havehorsewilltravel.com.au