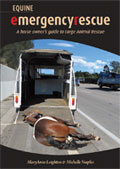 Book Review - 'Equine Emergency Rescue'
(MaryAnne Leighton & Michelle Staples)

This book won't give you the 'warm and fuzzies' but it could save the life of your horse (not to mention your own life)! Some of the pictures may be quite confronting, but are absolutely necessary to ensure horse owners and emergency workers are well positioned for the best possible outcomes from some pretty scary but not uncommon situations.
Equine Emergency Rescue is a 'must have' for all horse owners, veterinarians, and emergency response personnel.
The book clearly and concisely outlines all that you (as a large animal owner) and emergency response personnel need to know on effectively and safely rescuing a horse from almost any situation. Floating accidents, mud, fire, floodwaters, ditches, sinkholes, septics, grids, and even swimming pool rescues, are all covered in this book.
Many emergency responders may have no experience with large animal rescues, or indeed with horses. This can often result in the rescue causing greater injury than the original accident/situation.
Each chapter is this book gives comprehensive information (including clear illustrations) on what to do from the get-go, including what information you should give the rescue team, the attending vet, and the police. It details the equipment needed and how to keep everyone involved safe, as well as keeping the animal involved as safe as possible.
Keep this book on hand and take the guesswork and delay out of finding the relevant information.
There is practical advice on restraints, containing horses, catching horses in the open, how to behave around horses, making an emergency halter (and how to put it on), how to lead a horse, and many other simple pieces of advice that, as horse owners, we may already know, but emergency responders will often have no experience with.
Simple first aid for horses is also provided, as well as knots that may be needed for some rescues.
This book may well save the life of all those involved in the rescue - both human and equine.
To find out more about this 'must have' publication, or to order your copy, visit www.equineer.com (and don't forget to tell them we sent you).